During this comprehensive coaching program you'll discover:
:: The truth about what you CAN eat and lose weight
:: Why most of what you read about nutrition is WRONG
:: The secrets to eating for fat loss no matter how busy you are
:: How to make your grocery Read more
I was presenting a Metabolic Physique Conditioning Course at the Recent South East REPs conference and I was lucky enough to get a lot of interest for the courses.  However one thing that I obviously did not do a good job of was explaining the difference between the Metabolic Effect Read more
Joshua Carter began his fitness career as a Certified Personal Trainer in the Santa Monica area.  In 1996, Joshua developed his Physical Enhancement website, and has launched several other fitness-related web sites since that time, including Carterfitness.com. 
With over 18 years personal training experience, Joshua has developed training & nutrition Read more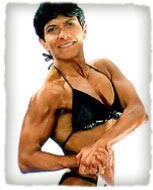 Georgette Pann is  owner of NutriFitness LLC.  She has 25+ years experience in the Health and Fitness field with expertise in fitness bootcamps. She is author and creator of the best selling "Sure Victory Fitness Bootcamp Business in a Box" at http://thefitnessbootcamp.com and Sure Results:The Ultimate Book of Bootcamp Workouts http://fitnessbootcampworkout.com  Read more
Jane Tress is a fitness industry legend, she has been a top UK presenter for over 25 years (she also gave me my first presenting opportunity MANY years ago!).  She has also spent many years as a General Manager for a large fitness health chain.  She has used these experiences Read more